The sixth hasty stage
11.01.2014
Hasty. This is perhaps the most fitting title for the sixth part of the Dakar adventure in which went trucks from Tucuman to Salta "only" 156 measured kilometres.
Against the previous ultramarathon stages in which were the differences between the racers in tens of minutes or hours, this time was every second very important.
The Dutchman Versluis was the fastest on the stones, his time in finish was 1:33:54. The second Nikolajev lagged behind him for 78 second and the fifth Stacey lost after Nikolajev just 17 seconds! In the day of his birthday didn't lost Ales Loprais, who brought his Queen to finish on the 9th place with lost of four minutes and three seconds. He was on the seventh place in the overall classification, but after the additional hourly penalty of the Russian Sibalov he moved to the sixth place. He is loosing an hour and 39 minutes to the leading De Rooy and about 32 minutes to the third Nikolajev. The crew of Jan Tomanek is currently on the 22nd place.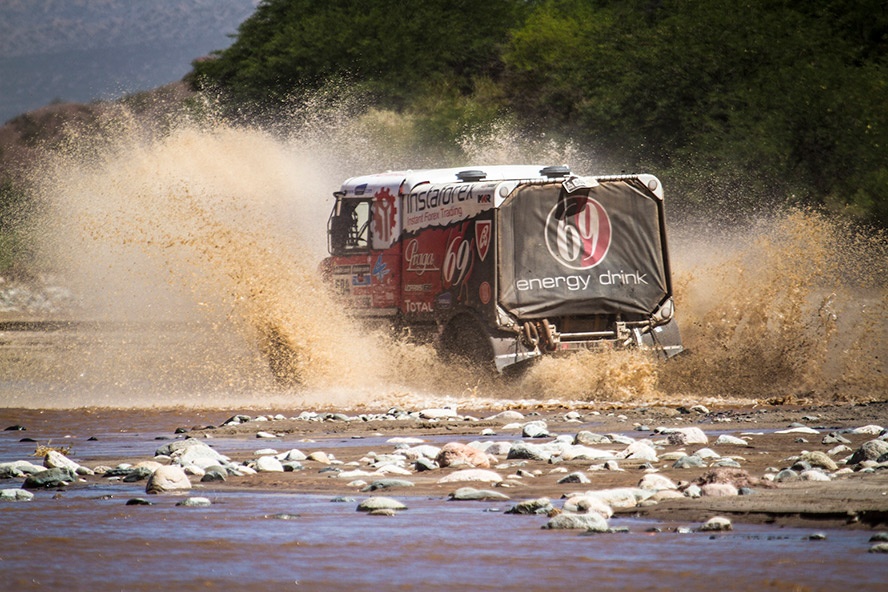 Saturday will halve the Dakar competition, it is the rest day. Reaching the rest day represents a major intermediary goal on the Dakar. Some of the rally's newcomers, who are conscious of how tough the challenge is, may even regard this as a tiny victory. So the drivers and teams will be welcomed with the honours of a halfway podium at the bivouac in Salta, where a first celebration has been organised for them. Thousands of spectators are expected to come and discover the Dakar Village, as they did in Tucuman last year, where they will have the opportunity to immerse themselves in the world of the rally, take advantage of the great variety of entertainment and activities on offer and meet the race's key figures. It will also allow the competitors to boost their motivation levels and recharge their batteries. But seriously tested technique requires the best care so it is expected that the mechanics can not stop even in the bivouac in Salta and the rest day let them repair everything necessary with the bigger well-being.
So we wish a relaxing Saturday with nice people not only to you but also to our boys in Salta.