The fourth stage and further purgatory
09.01.2014
Ales Loprais started to the fourth stage from the third position after the Russian Alex Karginov and De Rooy from the Netherlands. But at the first waypoint of the marathon stage was Ales recorded on the eighth place. However Ales battled to the fifth places and most of the 650 km long run held at a range of the very fastest.
But after crossing the highest point of the stage, more than 3200 meters above sea level, Ales began to fade. Between the eighth and ninth waypoint, approximately 500 km after the start of the special stage, he fell from sixth place to eighth and after eleventh waypoint he was the ninth. It was the loss of 23 minutes and 12 seconds to the winning De Rooy and the ninth place in he finish. In the overall ranking is Ales on the seventh place and has a loss of an hour and nine minutes to De Rooy.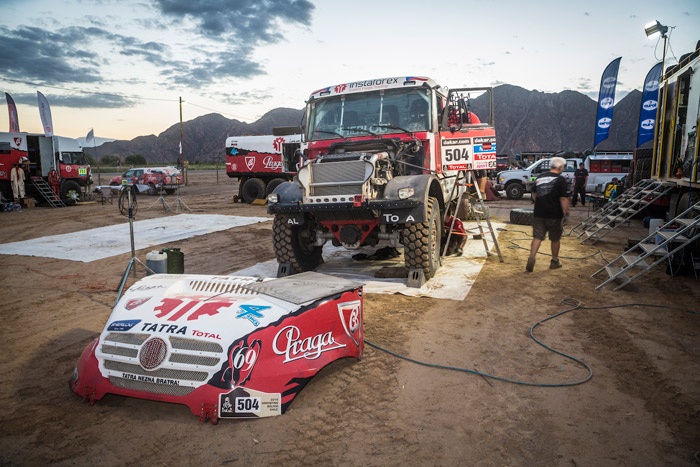 "Purgatory without 4x4 dust for the second time! We met the same problem in the longest stage of the current year. Tonight we will deal with it. A lot of trucks overtook us today. The attack on the podium has changed to struggle for survival on the Dakar – not to get stuck and reach the finish. Unfortunately we met another problem during the day - oil leaks from the oil pan. We had to refill oil in the neutralization zone to not stop the heart of the Queen. We are happy that we reached the finish and managed everything somehow. So our adventure continues!" commented Ales Loprais and the 504 crew.
5th stage: Chilecito - Tucuman
The connecting section: 384 km / The special stage: 527 km
If one could say about the yesterday's stage that was challenging and exhausting, then the same applies to today. It is the longest in this year and the measured part of 527 km is divided into two parts. To this must be added 154 km an 231 km of connecting section between the starting Chilecito and finish in Tucumán. The heat and sand is waiting for the racers. Organizers warn that the number of candidates to the podium will reduce in the bivouac in Tucuman and the elite group will be reduced too. Hopefully our two crews 504 and 519 will bravely fight on!