Loprais and Praga slowed down by cracked exhaust pipe
14.01.2020
After yesterday's success, Aleš Loprais, Khalid Alkendi and Petr Pokora continued in the Dakar Rally 2020 in a great way. The Instaforex Loprais Team fought for another top 3 result in Tuesday's stage, but a cracked exhaust pipe slowed down the Praga V4S DKR just before the end.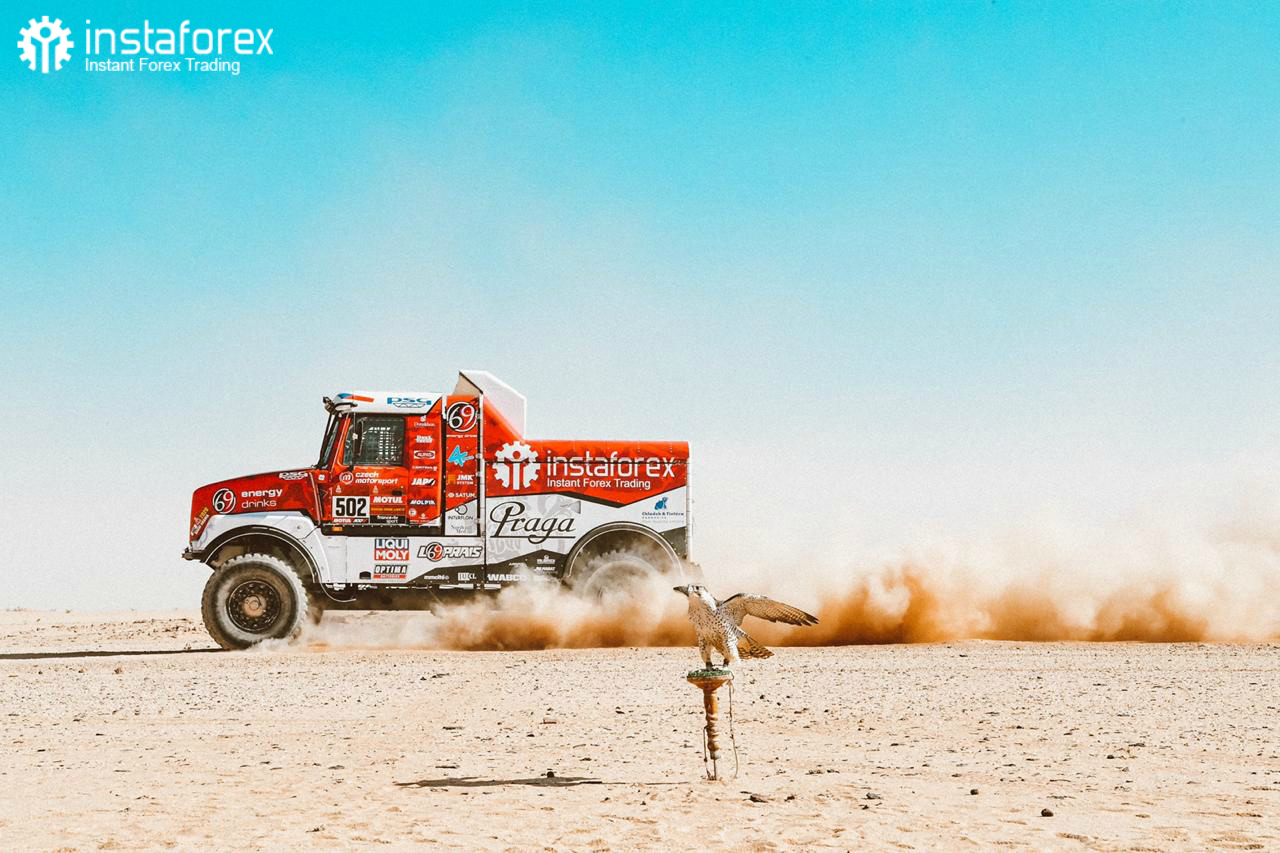 The ninth stage of Dakar Rally 2020 headed from Wadi Al-Dawasir to Haradh. The whole route was 886 kilometres long, out of which 410 kilometres were timed. The special stage offered a combination of many different terrains – while it all started in canyons and riverbeds with rocky terrain, the following part was all about speed before offering a more technical final part.
Since the first sectors, the red, white and black Praga was holding the third place, behind the overall leader Andrey Karginov on Kamaz and Siarhei Viazovich on MAZ. However, the Instaforex Loprais Team finished in the fourth position in the end.
"We had a beautiful stage today. We were holding the third place, but then, with just 30 kilometres to go, our exhaust fell off the truck, melt a hose and it started to melt also the piston rod of a steering. We had to stop. For a moment, it looked like it might take away all the air and our brakes would get jammed. However, that didn't happen, and we made it to the end. We wanted more, but we're grateful to be here and we're still in the game," explained Aleš Loprais.
The InstaForex Loprais Team still holds the fourth place in the overall standings, one hour and five minutes behind Viazovich in the third position.
But the crucial part of the Dakar Rally is coming now. Tomorrow and the day after tomorrow will be dedicated to a marathon stage that is over 1,350 kilometres long. And Rub' al Khali desert and its fields of dunes are going to test every competitor.
On Wednesday, the tenth stage of the event will be 608 kilometres long, out of which 534 kilometres are going to count as a timed stage. The final 30 kilometres will offer dunes. As the days in Saudi Arabia are short, anybody who might get late will face the darkness. After the stage, the crews will be put into a separate bivouac in Shubaytah, without their mechanics and teams.
The second part of the marathon stage is a route back to Haradh, which is 744 kilometres long, with 379 kilometres of special stage. And in the first 80 kilometres of the stage, the drivers are going to enjoy some of the most formidable dunes in the country.