Dakar 2023: Ales Loprais got stuck in river, yet he increased his lead
09.01.2023
In the ninth stage of the Dakar Rally 2023, the red-and-black truck Praga V4S DKR #508 bogged down in a flooded and mudded wadi for 15 minutes. Yet, the InstaForex Loprais Team managed to keep other trucks behind and even pulled away a bit more.
After a Rest Day, the Dakar Rally started its second half, which is shorter, but supposedly even tougher. The participants of the most popular motorsport marathon in the world headed from Riyadh to the eastern parts of Saudi Arabia. After the first few days, which were affected by rain and lower temperatures, the competitors could not wait for a dry and warm climate in the southeast part of the country. However, the weather decided to come into the mix once again. Originally, the organizers promised that the ninth stage to Haradh would not be too difficult. However, the morning's rain has changed things, especially due to flooded riverbeds.
"Some of our competitors got stuck when crossing a 200-meter-wide wadi. So, we tried to find another way, but we got stuck, too," navigator Jaroslav Valtr jr described.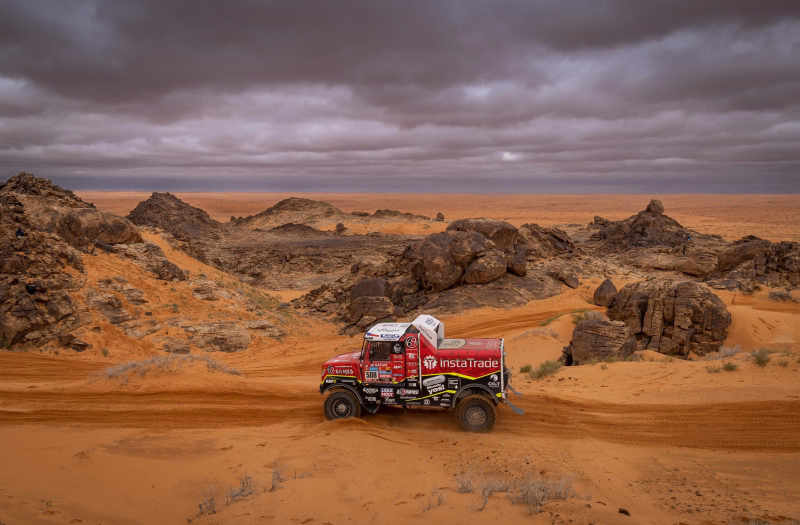 "It took us around 15 minutes to get out of it, but after that, we flew. Also, just before the river, we were looking for a waypoint. But that didn't slow us down for more than a minute."
"Well, there will be much more work on the truck than just detailing today. The interior and exterior are going to require a bit more intensive care from us," cabin mechanic Petr Pokora, who is called Butul within the team, smiled.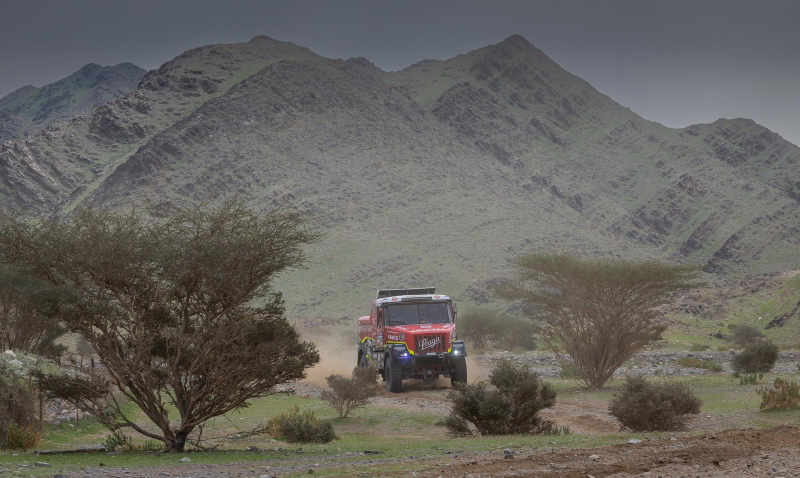 While it took them several minutes and a lot of effort to set the Praga truck free, as its wheels bogged down in a mix of wet sand and mud, the crew did not lose its overall lead. On the contrary, Loprais finished the ninth stage in fourth place and increased his lead in the Trucks category to almost 27 minutes. All that despite an involuntary mud bath. Also, the two closest competitors got stuck in wadi for much longer, which allowed Janus van Kasteren to move up to second position in the overall standings after he managed to avoid the critical place completely.
"I'm having a very nice birthday today because we've had a really beautiful stage. Even though we fell into muddy water, which is where you can either win or lose a lot," Aleš Loprais, who celebrates his forty-third birthday today, said.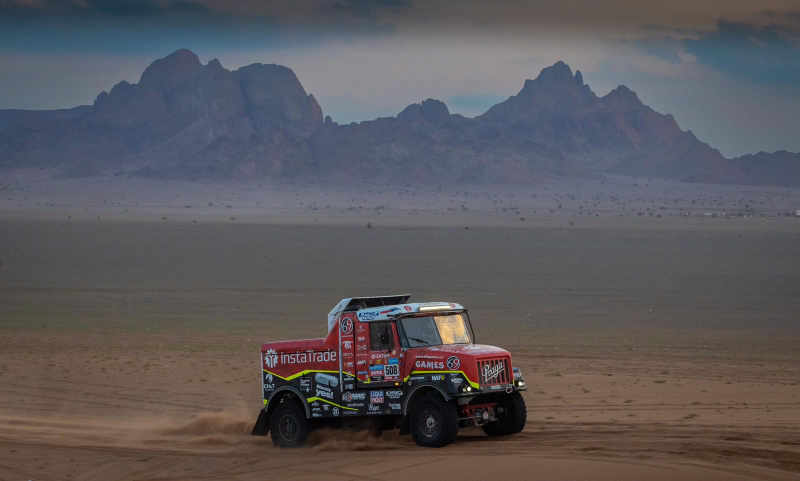 "Our advantage was that we already saw two other trucks struggling there. So, we followed the current, looking for another place to cross the wadi. We traveled for two kilometers. And even though we kept our fingers crossed for the Lady, in the end, she stopped just three meters short of the other bank. The guys jumped out right away. Butul went for his favorite bags, and I asked Jaroslav, diplomatically, to bring the metal plates before I went to the river for my favorite rocks. I threw them under the Lady's wheels to give her better traction. Within a few moments, we managed to get the truck swinging by moving it forward and backwards, and the Lady miraculously jumped out of it, thanks to God's help and all the angels I had asked to help us out. It's unbelievable that we lost only 11 minutes there. I'm really thankful for that because, in a way, it was a crucial stage today, and we handled it."
On January 11, the rally continued from Haradh to Shaybah (624 kilometers in total). While Wednesday's special stage is set to be quite short, with only 114 kilometers, ninety per cent of it will lead through the dunes of the Empty Quarter. The first taste of what is coming in the following days.