Dakar 2023: Ales Loprais leads halfway through
07.01.2023
Aleš Loprais and his crew finished second in the seventh stage of the Dakar Rally 2023. The Praga truck now leads the Truck category, two minutes ahead of the closest competitors.
After more rain, which hit the Riyadh area on Friday night, the competitors continued with Stage 7 (861 kilometers) from Riyadh to Ad Dawadimi. However, while bikers and quad riders had their special stage cancelled and took only the liaison route, cars, buggies, and trucks faced an altered 333-kilometer-long special stage. In the beginning, the crews were focused on navigation in beautiful but confusing canyons, while later, the route offered more technical parts and even some rocky sections.
"Today's special stage was difficult, with a mix of everything. But it seemed like Aleš had an excellent sleep, and our doctor Bohouš probably gave him some Gummiberry Juice because he was incredible! I think he pushed a little, but without taking any risks and making unnecessary errors," cabin mechanic Petr Pokora praised his driver.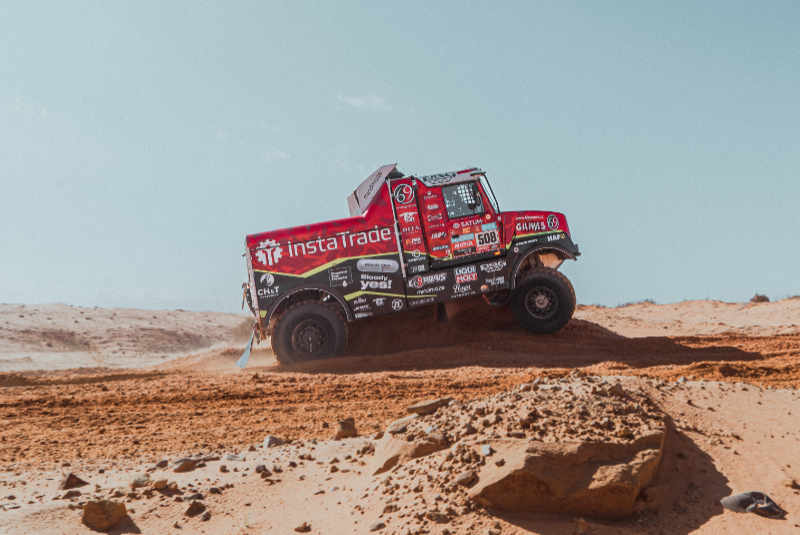 "And Jaroslav was excellent as always! I don't understand it. If I was a navigator, I would have gone crazy for having so much stress and fear," he also praised navigator Jaroslav Valtr jr.
Following a brilliant performance by all crew members, the red-and-black Praga V4S DKR #508 finished in the second position in the stage classification, beating Martin van den Brink by two minutes and 37 seconds in the process. Van den Brink's team protested a penalty given to them last night after the sixth stage. The organizers have accepted the protest, which means Loprais, and his crew now lead over the experienced Dutch driver by exactly two minutes. Saturday's winner Janus van Kasteren remains in third place, more than 22 minutes behind the overall leader.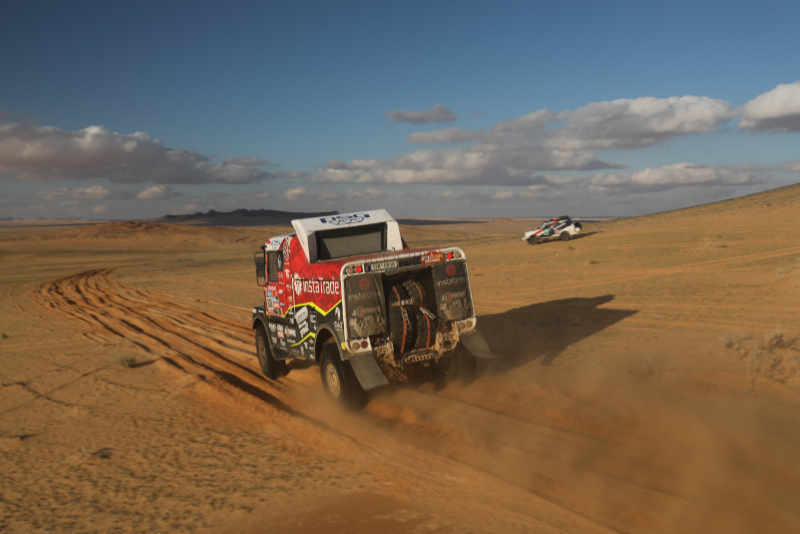 "We had a great run. Some places we enjoyed, some not so much. I thought I'd better go a bit faster so that we can put It all behind us," smiled Aleš Loprais.
"We're halfway through the marathon stage and the whole Dakar Rally as well. I believe that we can make it until Monday, which is a day off. After that, we'll try to do the second half in a way that we're satisfied with the result at the very end."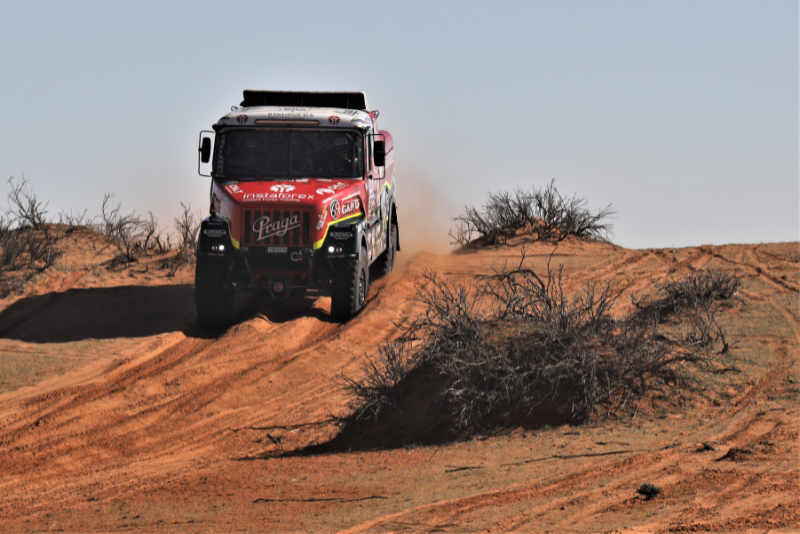 It is a marathon for crews, but a sprint for the mechanics
Due to rough weather conditions, which have been affecting the competition since Tuesday, the organizers were unable to build a full-sized bivouac in Ad Dawadimi. That is why the crews will have to make it through the night without the help of other team members. The vehicles have been put in a Parc Fermé, where they spend the night. Yet, it is not a typical marathon stage, which would require crews to take care of the vehicles themselves. The organizers have prepared a temporary service zone on a liaison section between the end of the special stage and a bivouac. There, the mechanics were allowed to attend to the vehicles for two hours before heading back to Riyadh.
"We checked the vehicle, cleaned it, washed it, polished it, and applied a ceramic coating… nothing special! Just a typical detailing," Petr Pokora, who was in a good mood as always, joked.
"Of course, we changed the tires and did our usual service, as we always do after every stage. Even though we had to prioritize some steps due to the limited time. Nevertheless, we were allowed to have our whole team there. The guys can do pretty much anything in those two hours, including changing a turbo or dampers. Anyway, we didn't add too much work for them today - just those mirrors, as usual," he continued on a more serious note.
"I must say that the organizers have done a good job with all those schedule changes, and they have come up with a rather interesting solution like that limited-service time. Thanks to that we've suddenly found out that our guys can do pretty much everything necessary within an hour," Jaroslav Valtr ml. praised the organizers and mechanics of Instaforex Loprais Team.
The second half of this year's Dakar Rally begins with the eighth stage on Sunday, January 8, with an 824-kilometer route from Ad Dawadimi back to Riyadh. The 346-kilometer-long special stage is set to offer another interesting mix of terrains, from undulating parts and rocky sections to fast sandy plains and more dune fields.