Rally Dakar 2023: Loprais got stuck but stays in lead
06.01.2023
The sixth stage of Dakar Rally 2023 was challenging for Aleš Loprais and his crew. They lost precious minutes after getting stuck on a dune, but they managed to stay at the top of the standings by a slim margin.
First, the harsh weather forced the Dakar Rally organizers to shorten the third stage, and then much bigger changes for the following days. The sixth stage took place on Friday, January 6, but did not end at Ad Dawadimi as planned. Following torrential rain that hit the area in the previous days, the place originally meant for a bivouac had been flooded. Instead, competitors headed to Riyadh two days earlier than planned. In the end, crews had to endure a sizable portion of 919 kilometers during the day, out of which only 357 kilometers counted as a special stage. And that was shortened as well, from the original 466 kilometers. Yet, it still featured many difficulties, like large dunes followed by steep descents and more complicated navigation with waypoints that were challenging to find. And despite lower temperatures, Aleš Loprais with Jaroslav Valtr jr. and Petr Pokora still sweated as they faced some difficult moments.
"We had started really well, but then I made an error when trying to climb a large dune. We didn't carry enough speed, and it didn't work out. But we were lucky to get out of there relatively fast," Aleš Loprais described.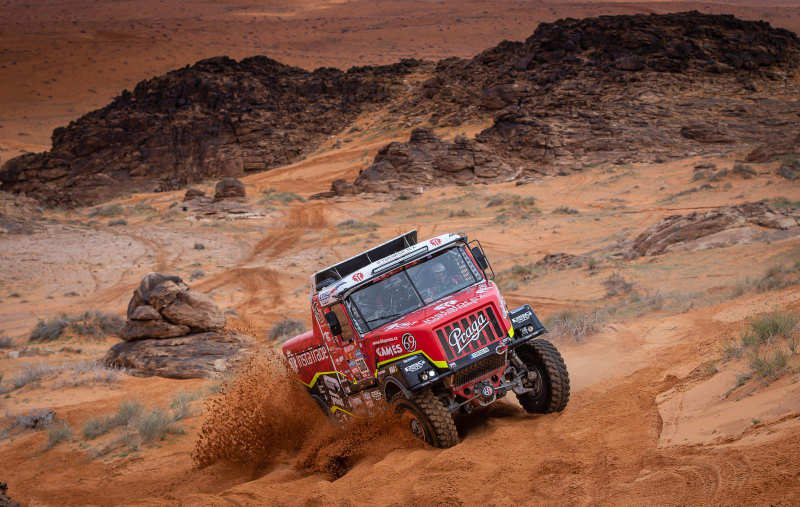 "It was my error, and I apologize to the fans, families, and everyone who was glued to their tablets, phones, and computers. I remember it well from times when Karel was racing, how nervous it can get, when you're cheering for someone, and waiting for every split time," he recalled his uncle Karel Loprais, a six-time Dakar Rally winner.
"We thank you all for the support, and please, hold on. I believe that the following days will bring something more positive."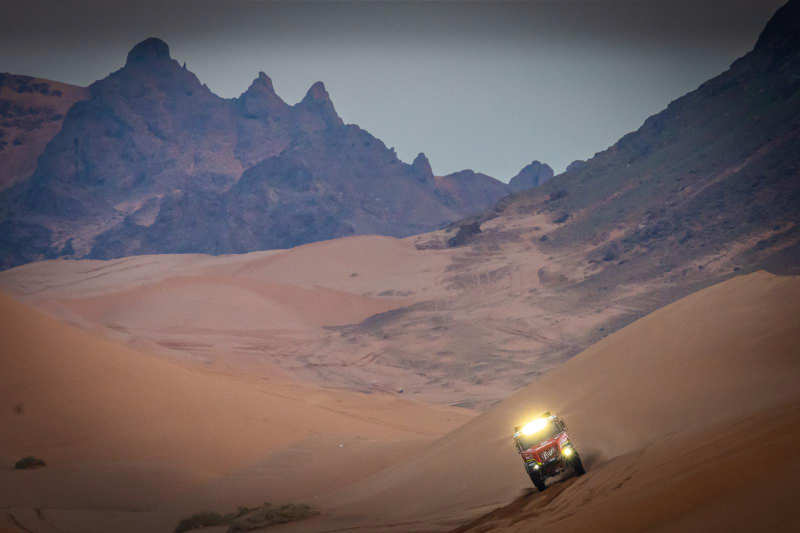 The InstaForex Loprais Team crew finished Friday's stage in sixth place, less than 27 minutes behind its winner Mitchel van den Brink. In the overall classification, the team stays in the lead ahead of Mitchel's father Martin, even though by a close margin. After 2,300 kilometers of special stages, the best two trucks are separated by only 23 seconds. Janus van Kasteren in third position is 26 minutes behind the leader.
The first half of the Dakar Rally 2023 finishes on Saturday, January 7, but with another slightly changed route from Riyadh to Ad Dawadimi. After a 333-kilometer-long special stage, the crews will spend a night at Ad Dawadimi without their entourage. Due to the harsh weather conditions, the organizers could not prepare a full-sized bivouac. However, unlike in marathon stages, the competitors will not be left without any service whatsoever. The organizers have prepared a temporary service area on a liaison section between the end of the special stage and a bivouac at Ad Dawadini. In that area, the mechanics will be allowed to attend to the vehicles for two hours, after which the crews will head to Ad Dawadimi. There they will leave their vehicles in a parc fermé until Sunday morning.