Dakar 2023: Ales Loprais retakes overall lead
04.01.2023
In Stage 4, Aleš Loprais and his crew gained crucial minutes on their competitors. They are now back in the lead of the Trucks category where the tight battle in the overall classification continues.
On January 4, the Dakar Rally 2023 continued with a 574-kilometer-long loop stage around Ha'il. This time, crews faced another long and rough special stage, which had over 400 kilometers. It featured dunes, wet heavy sand, following yesterday's rain, and zigzagging in a passage with camel grass.
Despite suffering a puncture, Aleš Loprais with Jaroslav Valtr jr. and Petr Pokora finished the stage in third place, and after a one-day break, they returned to the overall lead. They now enjoy a gap of 27 minutes to Martin van den Brink from the Netherlands, who have jumped two competitors and is currently in second position in the Trucks category.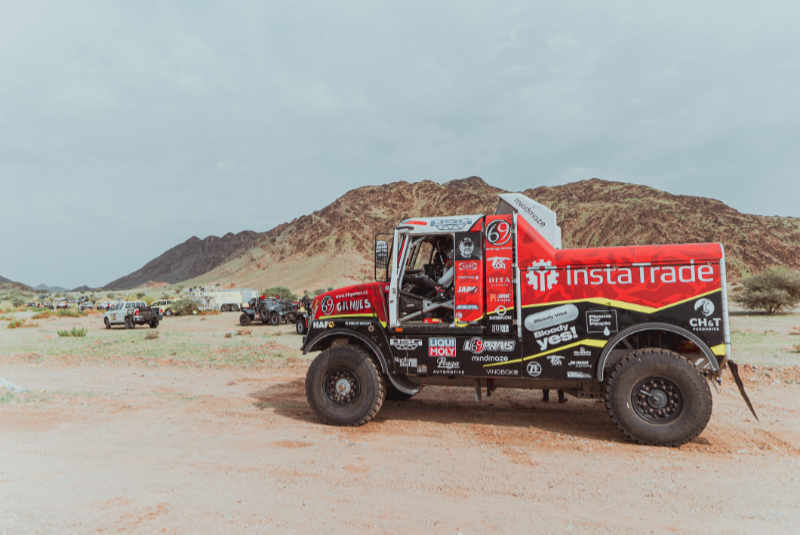 "Today, we were starting from behind due to our yesterday's penalty. That's why we had to make our way through the first dune field and then the camel grass. On the way, we passed a few trucks and buggies, and we had a good run overall. Even though the G-force was huge sometimes as we kept going up and down. At times, we were more in the air than on the ground, but the first half went perfectly well for us," praised Aleš Loprais.
"For me, it was the most beautiful stage so far. We had a good run, despite that one puncture. It happened after one jump after we had landed on a rock," explained the cabin mechanic Petr Pokora. That was also the reason why the Instaforex Loprais Team finished 9 minutes behind the stage winner.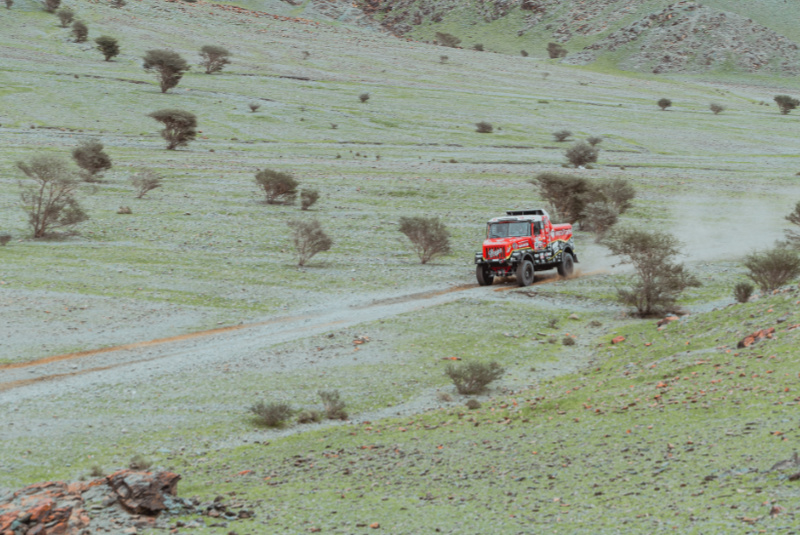 "It happened in a place where we reached the maximum allowed speed of 140 kph. There was nothing we could do. We were already in the air and landed behind a crest," added Aleš Loprais.
"We should have been probably a bit slower, but we wanted to reduce our loss. And we've managed to do so. In the final section, we got ahead of van Kasteren and others again. Overall, it was a demanding stage, and it hurts, but it was worth it."
However, the crew faced even more complications. There were two problems with navigation. But it was not in directions, as Jaroslav Valtr jr. excelled at that today, but issues with technical equipment.
"Already at the third kilometer, the tablet dropped from the holder. I had to reattach it while driving, as Aleš didn't want to stop for me," described Jaroslav Valtr jr. jokingly with a big smile.
"Then, in the second half of the stage, the tablet's control stopped working. So, Aleš had to follow the tracks for a few kilometers as I needed to reconfigure the tablets."
After four out of fourteen stages, the Dakar Rally 2023 participants have already done more than 2,400 kilometres, out of which 1,600 were part of special stages. It is no surprise that vehicles require very thorough care, and that is one of the reasons why the black and red Praga V4S DKR #508 has remained in top-notch condition.
"Despite this year's Dakar is longer than in previous years, and the truck is getting a lot of beating, we keep going in our standard mode. And we plan to do our extensive service on the rest day. For now, we change only what I don't like. For example, today, we'll change the rear dampers. But, for the first time, we're also going to replace brakes before we reach the second half of the rally," revealed Petr Pokora what is happening behind the scenes.
"When it comes to the vehicle and how we care about it, that's our standard. But I need to praise something else – with every year, the atmosphere in the cabin is getting better. And I think the one we have right now is the best I remember. I'm really delighted about it, as it's very important to me. And I'm not talking just about races and bivouacs, but also at home in the repair shop. Having such a good atmosphere makes it so much easier for me to work there and to race."
While the InstaForex Loprais Team mechanics face another night shift, they will be able to get some rest tomorrow as the bivouac remains in Ha'il. The Dakar Rally 2023 has prepared another loop stage, this time 649 kilometers long, with a 374-kilometer special stage, which will take place in dunes located north of Ha'il.