Dakar 2022: Loprais finishes third in first stage despite some issues
02.01.2022
After the first leg of the 2022 Dakar Rally, only the InstaForex Loprais Team with its Praga V4S DKR truck managed to split four factory Kamaz vehicles. Ales Loprais finished in third place, despite facing issues throughout the whole second half of the special stage with a partial brake failure.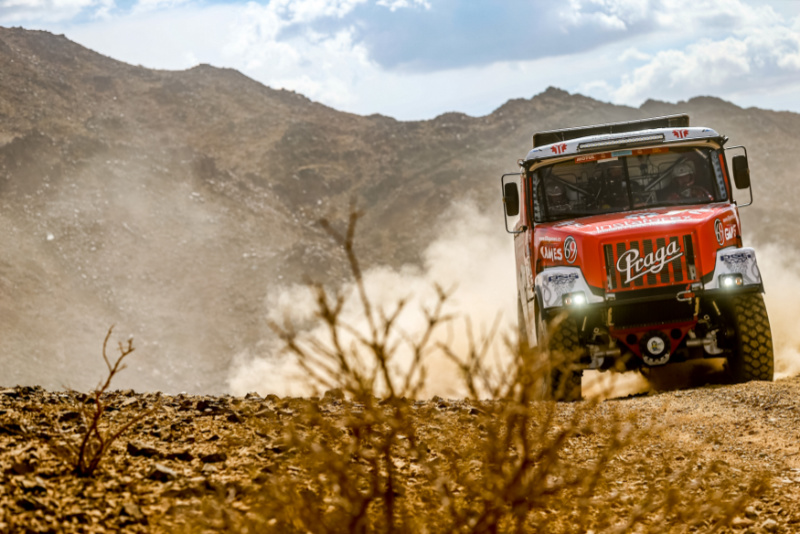 The opening stage of the 2022 Dakar Rally was a 514-kilometre loop around Ha'il, out of which 333 kilometres were timed. The whole stage offered a big variety in terrain, with crews facing both technical and faster segments on the sand, soil, and mountainous roads with lots of stones, which turned some sections into a proper trial. Especially navigators had a difficult job with several tricky spots. And they all had to be extremely careful about steep slopes. However, none of that took Aleš Loprais by surprise.
"Lots of camel grass, many jumps and holes, but I like that. Even though my neck hurts now," says Ales Loprais. "Considering our starting position after the prologue, we were passing one vehicle after another. The special was very difficult in terms of navigation, but it also offered some really beautiful sceneries. I think it was one of the most beautiful stages, we've ever had in Saudi Arabia."
In the first half of the stage, the Praga V4S DKR #508 truck held fourth place in the classification on the waypoints. At the very end, the crew also took advantage of the leading Kamaz, as a highly experienced Russian navigator Andrey Mokeev fell into one of the navigational traps. That cost Andrey Karginov and his crew around 20 minutes and caused a drop to fifth place in the stage classification. However, Loprais faced some challenges as well.
"We lost the left front brake drum halfway through the stage. Since then, every time I hit the brakes a bit harder, the truck went into a slide, so I was a bit nervous. But we managed to keep up the pace. It's a shame, it could have been even better, but we can't think about that. We're happy with the result and I believe that Karel is happy as well," added Ales Loprais, who still thinks of his uncle and a six-time Dakar winner Karel Loprais, who passed away just shortly before this year's Dakar.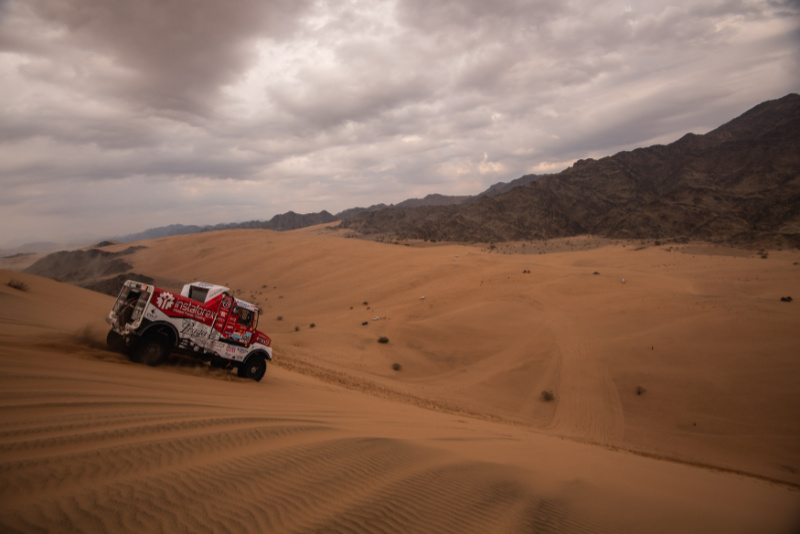 Despite these issues, Ales Loprais, Jaroslav Valtr jr. and Petr Pokora still managed to finish in third place right behind Karginov's teammates Dmitry Sotnikov and Eduard Nikolaev. Loprais and his crew also hold third position in the trucks overall standings, just 10 minutes behind leading Sotnikov.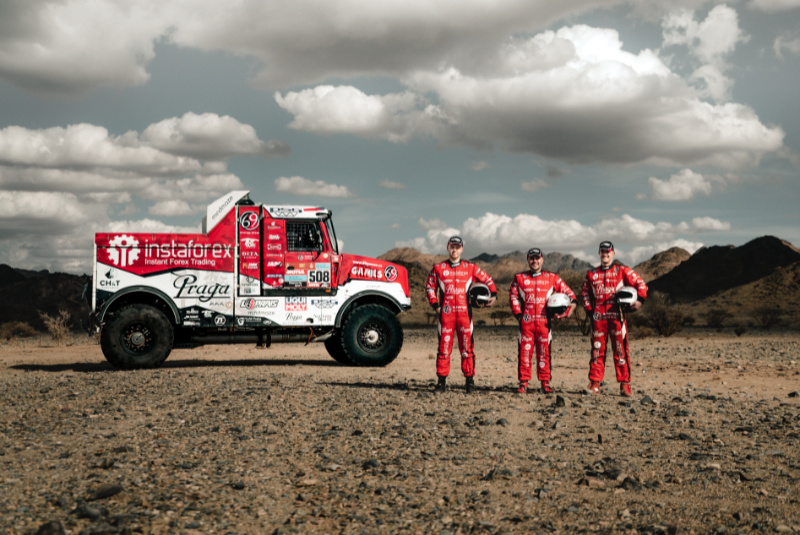 On Monday, January 3, the 2022 Dakar Rally was supposed to offer the first part of the marathon double stage. However, due to the heavy rain that flooded a planned bivouac at Al Artawiyah, the organisers have decided to cancel the marathon, turning both days into classic stages and moving the Monday's route end to Al Qaisumah. That means the teams will be allowed to stay and work together even tomorrow.
However, nothing changes about the stage itself. The special will be 338 kilometres long, with two-thirds leading through the sand and 90 kilometres in dunes. It is this type of terrain, where seasoned crews can gain the most and build a gap towards their less experienced competitors.