Dakar 2022: InstaForex Loprais Team back on the top
14.01.2022
You can have bad days, but never give up fighting. Those words were motivating the whole InstaForex Loprais Team as they returned to the competition after retiring at the tenth stage. However, Aleš Loprais and his crew definitely do not want to just participate, but they pushed hard and even had good fun at the stage.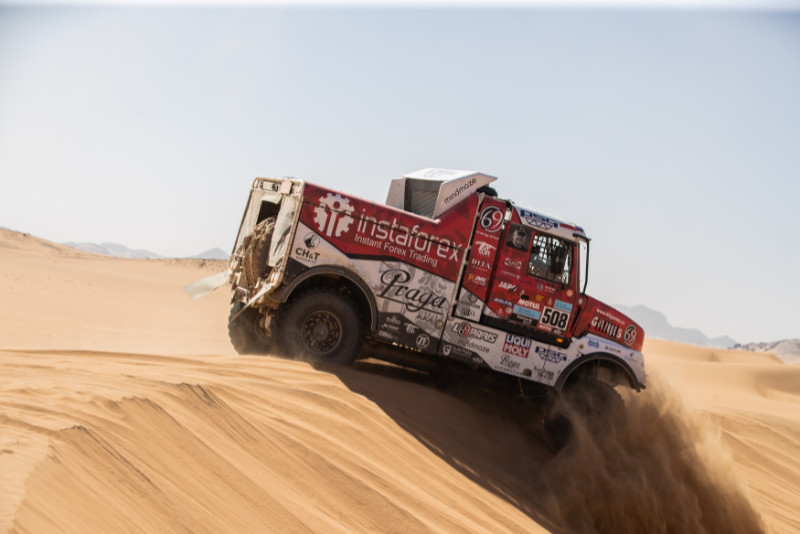 After many hours that Ales Loprais, Jaroslav Valtr jr. and Petr Pokora had spent with their mechanics on Wednesday in the desert, trying to fix the Praga V4S DKR, they had finally arrived at the bivouac at Bisha the following day at 3 am. The mechanics went back to work right away to prepare the red and white Lady for the next stage. In the end, the team has decided to continue despite having no hopes of getting a solid result in the overall standings.
"I'm exhausted after sleeping for only one hour today, but I'm also really happy. Big thanks to Ales and the 'council of elders' who have decided to continue, even though we can't achieve a good result anymore. I think that they've done it not just for me and Jaroslav, but also for Karel, who is constantly on our minds. And also, for the guys who worked hard on the truck for the whole year," says mechanic Petr Pokora, whose team of mechanics are responsible for preparing the truck during the year.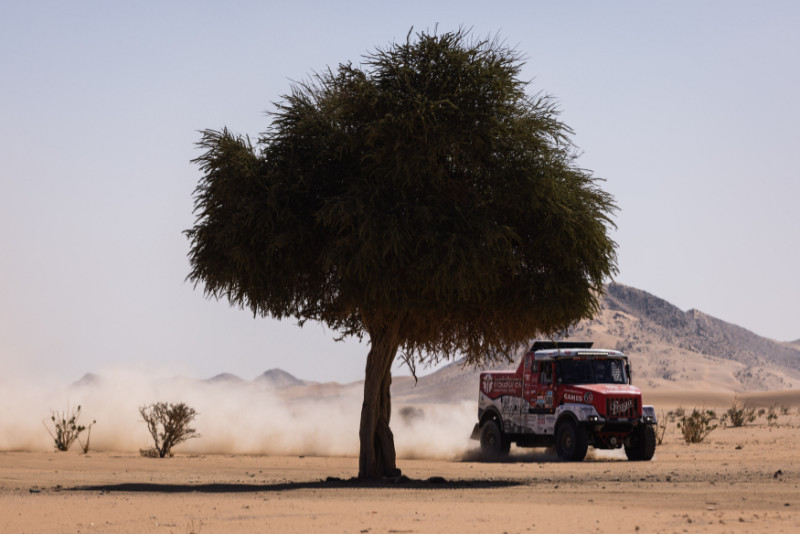 "Every time you don't finish the Dakar, it's a huge disappointment for everyone. The whole team is an excellent group of people. Big thanks to all the guys for their hard work last night. I really appreciate that," says the excited Czech mechanic from Plzen, who is also known as Butul.
Thanks to the team's maximum effort, the Praga #508 could continue in its journey on Thursday, January 13, with the penultimate stage of the event. The organisers were promising one of the most challenging but also most beautiful stages of the year. And they were right. On this special stage (346 kilometres), the competitors had to face difficult segments with camel grass, demanding navigation, rocky parts, and difficult high and soft dunes.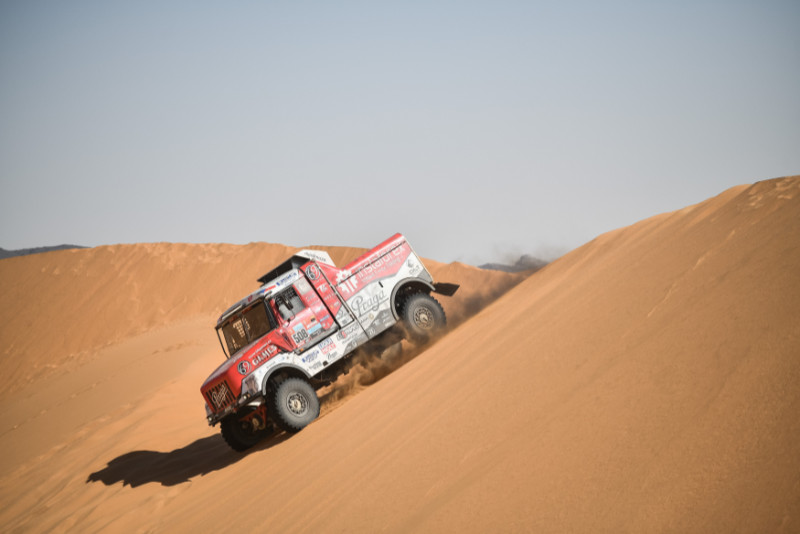 "First of all, huge thanks to the guys for finishing everything last night, making sure that the Lady could continue today. They did a fantastic job," adds Ales Loprais more praise for the team.
"Of course, after yesterday, there's not much to do with the results, so we just wanted to enjoy ourselves. We even had a bet in place as we tried to guess how many cars, buggies, and trucks we're going to pass today. And I must admit that I've lost. I had my bet on 28, but it was so much more. But we won't find out the final number until tomorrow," he says as he's inviting fans to watch his new vlog tomorrow on YouTube and social media platforms.
"But I was really enjoying it sometimes, especially the dunes. I'm surprised that we were able to pass so many competitors, and to set such time after starting in lots of dust. All that even though we had a puncture, I took some time to pick up flowers from a cactus there for the girls at home. That would be funny in the final. But I'm grateful," finishes Ales Loprais, who set seventh fastest time in a loop around Bisha in the trucks category. He was only 28 minutes behind the fastest driver of the day, Eduard Nikolaev in Kamaz. In the overall standings, Loprais is now in eighteenth position, following a 24-hour penalty for not finishing the previous stage.
The 44th edition of the Dakar Rally ends on Friday, January 14, with a twelfth stage that is going to be 680 kilometres long. The competitors will go from Bisha to Jeddah, as they face the final special stage (164 kilometres) of the event. It should offer mostly soil terrain, but there is still going to be some sand and even tricky rocky sections.