InstaForex Loprais Team: official participant of the Dakar Rally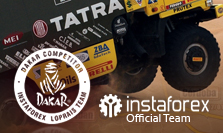 InstaForex is a title sponsor of InstaForex Loprais Team, the crew participating in the Dakar Rally. It is a joint project of InstaForex, the Tatra team and the Loprais family, repeated winners of the Dakar Rally.
The contract to organize a new team was signed in May 2011 by the family member of rally champions Ales Loprais and Deputy Director of InstaForex Dmitriy Savchenko. This event marked a turning point for both the Loprais family and InstaForex. The Loprais got a strong partner to help them break new ground, while InstaForex strengthened its business creed that unites high achievement sport and the Forex market by providing support to independent teams and world-famous sportsmen.
InstaForex Loprais team has its roots in the Tatra team, regular participant of the Dakar Rally. This fact determined the new stage of the team's development as one of the favorites of the competition. A highly talented and ambitious crew with its experience, championship tradition and support of InstaForex won their first victories and the title of the undisputed leaders in the category of trucks. In the first year of its new era InstaForex Loprais Team won the Silk Way Rally, leaving behind many of the favorites, including works teams.
In the two most important rally seasons for the past two years - the Dakar Rally 2012 and the Dakar Rally 2013 InstaForex Loprais Team was consistently among the leaders, going after the victory. But for its run of bad luck, the young team could have been ranked number one in the world-class rally. However, today InstaForex Loprais Team is a focus of rally experts' attention and a matter of concern for its competitors. This team is predicted to be legendary champions of the Dakar Rally.
Do not miss a pivotal moment in the history of the rally created by InstaForex Loprais Team. More victories are yet to come!
Photo & Video

Our Partners

Rally Dakar 2013: Preparation
Dakar 2013 13th stage
We can compete and win thanks to our partners